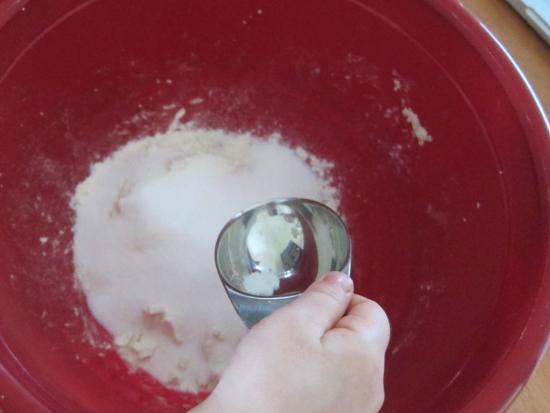 Salt Dough Ingredients
2 cups flour
1 cup salt
3/4 cup warm water
1 tablespoon oil
Optional
glitter
food coloring
The oil is optional, but we have found that it adds a nice sheen to the dough.
You can get creative and add glitter or use food coloring to make different colored batches of dough.
Mix together all the ingredients in a bowl. Knead with your hands until it forms a dough ball.
TIP: If your dough is too sticky, add a bit more flour until it is the right consistency. If your dough is too dry, add a few drops of water.
Roll out the dough about a 1/4 inch thick. Depending on the design you choose you may want to stamp or imprint the dough first before you cut out your shapes.
TIP: If you use parchment paper underneath you can move the finished item easily onto a baking sheet. The dough here was stamped with a rubber stamp and silver ink.
Stamps with different inks can be used as well as imprints from bark, leaves or anything with texture. You could embed beads into the dough and you can also paint them after baking with any water based paint, or even silver spray paint for a faux metallic finish. Use permanent markers to write or draw for even more endless possibilities.
Drying Options
If you leave the dough out to dry for a few days it will harden. That gives you the ability to embed items that may melt or crack if you bake them to dry. If you prefer to bake them to harden, it will take only 1 hour at 325 degrees. Place them on a cookie sheet.
TIP: After they harden or cool from baking, sand the edges for a smoother look. If you have delicate items embedded but don't want to wait for them to air dry, bake them for 2 hours at 250 degrees.

We would love to see your finished works of art! Please post a picture of your DIY Gift Tags for us!
Wishing you and your family a fun and happy Holiday season!